A Unique Alaska Couple's Glamping experience!
Fishing Lodge Home › Alaska Adventures › Alaska Outpost Cabins, Glamping › Solitude Island Retreat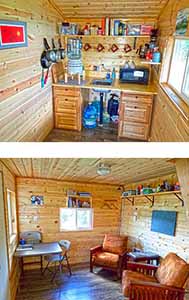 The perfect addition to your fishing lodge experience at Wilderness Place Lodge! Solitude island retreat is a one-of-a-kind remote fly-in lake cabin on a private 4-acre island just 8 miles Southwest of the lodge. There just isn't anything like it! Silence. Peace. Wilderness. Real Alaska... on 'island time.' Solitude Island Retreat is a privately-owned, remote fly-in wilderness vacation destination. Enjoy a convenient 10 minute float plane trip from Wilderness Place Lodge to our private 4 acre island on a beautiful wilderness lake (we include float plane taxi service). Our personal, private brand-new cabin has electricity and climate control heat with a twin and queen bed with comfy memory foam mattresses in the upstairs loft. The cabin is located just a stone-throw from the lake shore and our large floating dock. Easy access for all! This is a peaceful do-it-yourself wilderness retreat ideally for couples with space available for a child or two upon request. This is an extremely unique experience and a comfortable way to see real remote Alaska. This takes "Glamping" to a whole new level. The cabin does not have running water or indoor plumbing. Note this is glamorous camping in a nice, new cabin but not quite all the luxuries of home. There is a nice outhouse with a view and we will provide you with ample drinking water. A dip in the lake is the perfect way to clean off and cool down!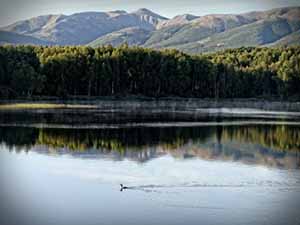 The island cabin interior is finished in knotty pine throughout. There is a main sitting area, dining wing and full upstairs loft. There is a large 6'x12' covered sitting porch with incredible lake and mountain views to soak in the solitude. 4 nesting pairs of loons call this place home and their calls can be heard echoing across the lake on a regular basis. Beavers, Eagles, Moose, Ducks, Shorebirds, Swallows, Songbirds, Otters and Swans also reside in and around our lake. We are one of only 3 private parcels on this gorgeous 600 acre lake, only ours and one other are occasionally occupied. The lake offers fair fishing for northern pike an we have rods/reels/tackle on site. We have a 2 person paddle boat, two kayaks and a row boat for exclusive use by our guests. There is a second lake adjoining ours that can be accessed by a short kayak portage for the more adventurous individuals offering good pike fishing. As the cabin is on an island, we're secluded from furry creatures, so no concern for those with "bearanoia". This is a peaceful place, so we hope that our guests come in seek of solitude and do their part to preserve it. We take care of all essentials such as cookware, dinnerware, food, potable water, beverages, utilities, etc. Please inquire for a full breakdown of amenities, itinerary and accommodations. This is really a soulful place you must experience and we welcome you!